May 19th is Global Accessibility Awareness Day 
The purpose of GAAD is to get people talking, thinking and learning about digital (web, software, mobile, etc.) accessibility and users with different disabilities.
Visit the GAAD website for more information.  Read about events that are taking place around the world from Ottawa, Canada to Kobe, Japan to Melbourne, Australia
Participate in GAAD at SU
Take the #NoMouse Challenge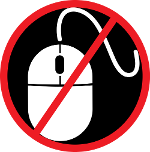 Is your favorite website accessible?  
Often websites are designed with the expectation that visitors will be using a mouse.  For some people, using a mouse is not possible. Take the #NoMouse Challenge to see if your site is usable by people who do not use a mouse.
How to take the Challenge 
To navigate a web page using just the keyboard (and no mouse):
Use the [Tab] key to move from link to link on the web page. [Shift] [Tab] moves backward through links.
Use the [Enter] key to select a link
Use the [arrow keys] when needed to move through lists
Use [Escape] to close a pop-up window
What to look for:
Is there a visible indicator to tell you where you are on the web page. This video, Keyboard Access Part I: Tab Focus, created by the ITS Accessibility Team shows you what to look for.
Can you access all areas of the page and website? For example, can you see and select items in dropdown menus?
Can you operate all buttons and forms?
If you have an embedded video, can you operate the play, pause, and other control buttons?
Other ways to participate in GAAD at Syracuse University
Visit the SU Accessible Technology Toolkit and spend 5 minutes exploring the resources the site has to offer
Sign up for an Accessible Technology workshop (workshops are scheduled throughout the summer)
Print the Microsoft Word Accessibility Cheatsheet from the Toolkit, practice the steps and post it near your computer.
Run the WAVE Accessibility checker on your favorite SU webpage to identify inaccessible features
Email your course syllabus to accessibleIT@syr.edu to have it evaluated for accessibility
Open TextHelp Read&Write Gold on your AD computer and try out some of the great literacy tools or download and install it for free on your laptop or iPad
Visit the IT Service Center, just off the Atrium in the Life Sciences Building, and listen to your favorite SU webpage read with a screen reader (software that people who are blind use to listen to web pages read aloud)
What does accessibility mean to students with disabilities?
This Portland Community College video includes stories from students whose education is impacted by inaccessible web content and ways faculty and staff can improve online course materials to make course content more accessible.
Questions?
Contact the Technology Accessibility Team at SU
Email: accessibleIT@syr.edu
 Phone: 3-2143